23.10.2023
First enter the e-business register portal with an Estonian ID card, Smart-ID or mobile ID. Next, select  "My Dashboard" from the top menu and click on the name of the private limited company on the page that opens.
Then click the "Change data" button.
If the legal entity is not displayed in the list, but you have the rights to change the data, click on the link "Look for a Company" in the "Search for a legal person" section on the right, at the bottom of the page. You can then enter the company name or registry code and search.

You must select the desired company from among the search results by clicking on the name of the company then on click on "Change the data" button and confirm that you have the rights to change the data. 
Next, the change entry application form will open, where you can change the data.
You can change the email address in the "Contacts" section of the application by clicking the "Change" button

Enter a new e-mail address in the "Means of communication" section and save. When you save a new e-mail address, a confirmation letter is sent to this e-mail. To confirm the correctness of the e-mail and move on, you must open your mailbox and click on the confirmation link in the received letter.
Next, proceed to the "Confirmation of the application" stage and sign the application. If the private limited company has no specifications for the right of representation, the application must be digitally signed by at least one member of the management board.
To do this, click on the "Sign" button at the bottom of the application confirmation page.
You will then be redirected to a signing page where, after a few moments, the user will be asked for a PIN2 code to sign.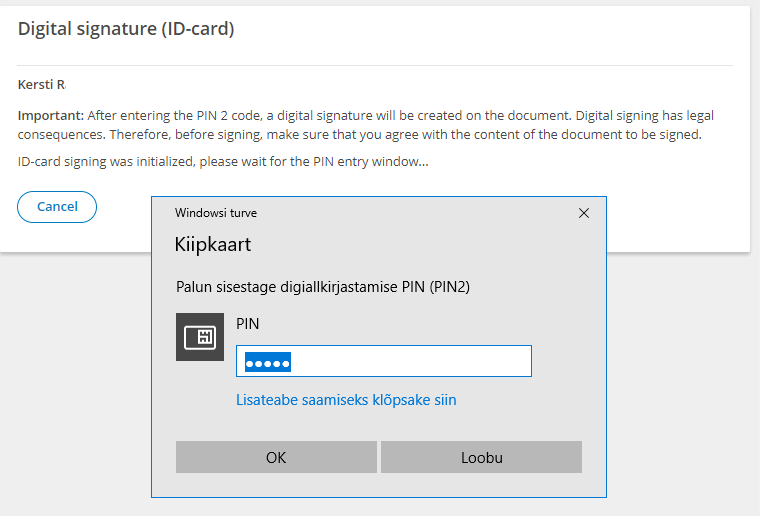 After entering the code, the document will be signed. When all the required signatures have been provided, proceed.
If only the e-mail address has been changed in the application, the state fee does not have to be paid.
If all the necessary persons have signed, proceed to the application next stage and click "Submit application" to submit the application to the register.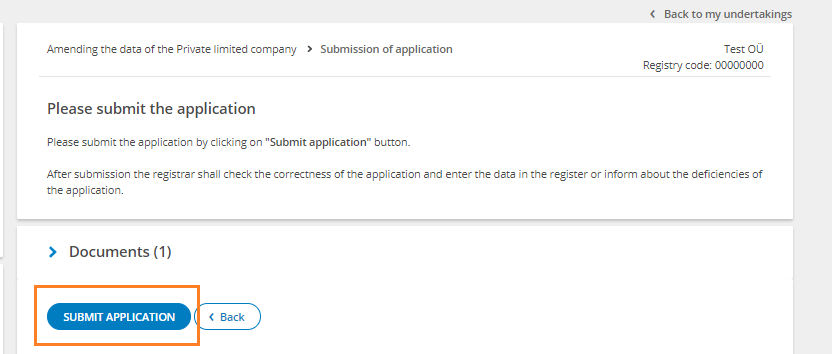 After submitting the application, you will be shown information about the submitted application, as well as the term of the proceeding by which the registrar will review the application and make changes in the register or inform the private limited company of the need to change the application.
If it is necessary to change the submitted application, you can do so until the registrar has made the updates in the register or until a term given by the registrar to remove deficiencies. Guidelines about changing submitted application.