13.04.2022
1. Preparation of a dissolution application for the business register
First a liquidation application should be started from the company main view: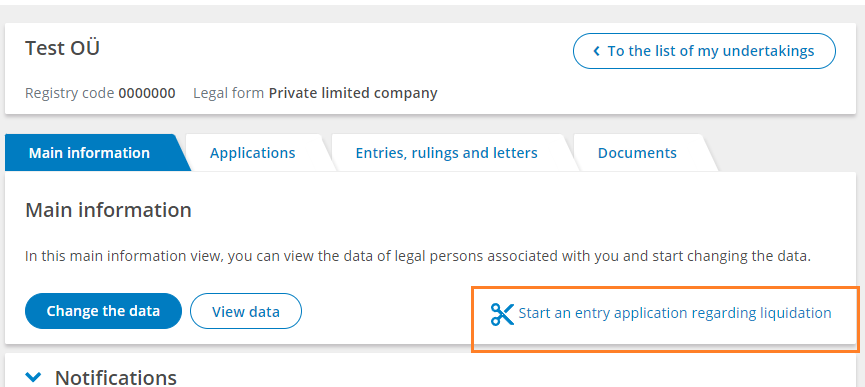 In the application the data of the liquidator should be added (usually former members of the management board) to the "Persons" section.
A resolution of the shareholders (document type "resolution of the body") and minutes of the meeting should be added at the "Documents" section of the application.
The application should be signed digitally and then submitted.
2. Publication of a notice of liquidation in the Official Gazette (state fee for publication 7 euros). A notice of liquidation must be sent to known creditors stating that the creditors must submit their claims within four months of the publication of the notice.
3. Preparation, approval by the shareholders of the opening balance sheet and annual report (liquidation report) for the financial year ended on the date of adoption of the resolution on termination and submission to the business register. The opening balance sheet shall be drawn up in accordance with the rules of the balance sheet included in the annual accounts and shall be accompanied by an explanatory report containing the information required in the notes on the accounts. The preparation of the liquidation and final reports is discussed in more detail in the Accounting Standards Board's Guideline No. 13.
4. Sale of private limited company assets, collection of debts and satisfaction of creditors' claims.
5. Preparation of the final balance sheet and asset allocation plan
6. Distribution of assets among shareholders
7. Closing the current account of the private limited company with the bank, if necessary terminating other agreements entered into on behalf of the private limited company.
8. An application for deletion of a private limited company from the business register may be submitted to the registrar not earlier than 6 months after the entry of the dissolution of the private limited company in the business register and publication of the liquidation notice and 3 months after the final balance sheet and asset distribution plan. In the "Persons" section of the application, the liquidators are deleted and the details of the custodian are added. For the Documents section, the final balance sheet and the asset allocation plan are added. The text of the deletion decision must be written in free form in the application for deletion.